Holiday in Sicily – What to see, do and experience? Part 2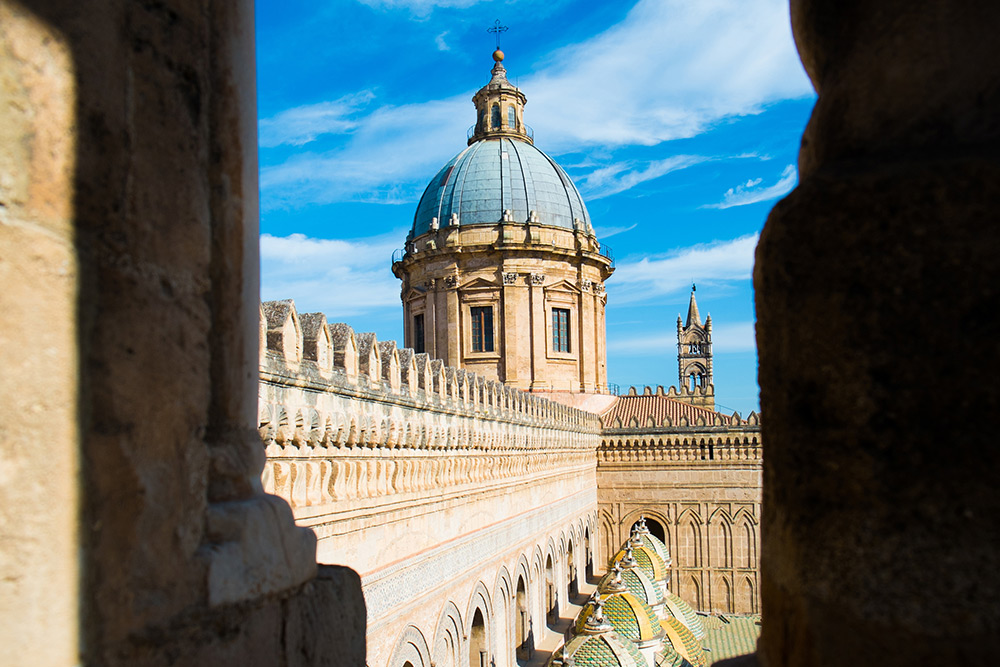 Places of interest:
You'd need a few months to visit all the beautiful places of interest in Sicily. So, clearly, we can't list all these sights here. These are just a few of the places of interest in our area:
Segesta:
A beautiful temple on the Monte Barbaro and an amphitheater with a view of the Golfo di Castellammare. Highly recommended!
Palermo:
If you are in Sicily, you should definitely visit the city of Palermo. View our photo tour through this impressive city.
Monreale:
Famous for the beautiful mosaics in its cathedral. A trip to Monreale can easily be combined with a visit to Palermo.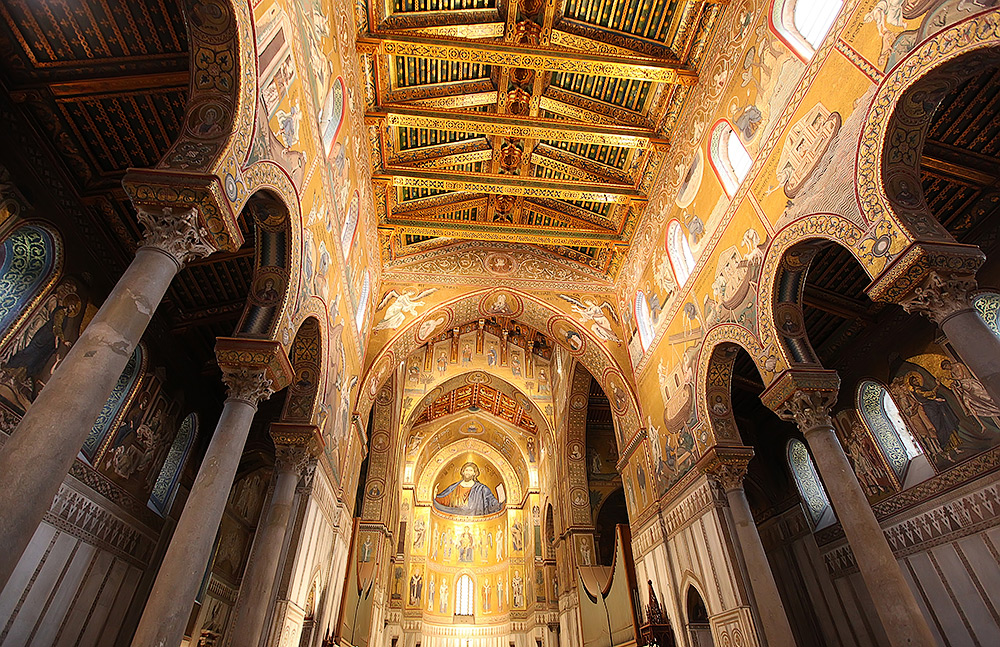 Erice:
A lovely medieval town on the Monte Erice at 750 meters above sea level, with spectacular views, beautiful churches and quaint streets. 

Scopello:
A small town with a cozy baglio (courtyard), known for the tonnara that was the backdrop for a scene from the movie Ocean's Twelve with George Clooney and Brad Pitt.
For more important sights in our area we refer you to this page.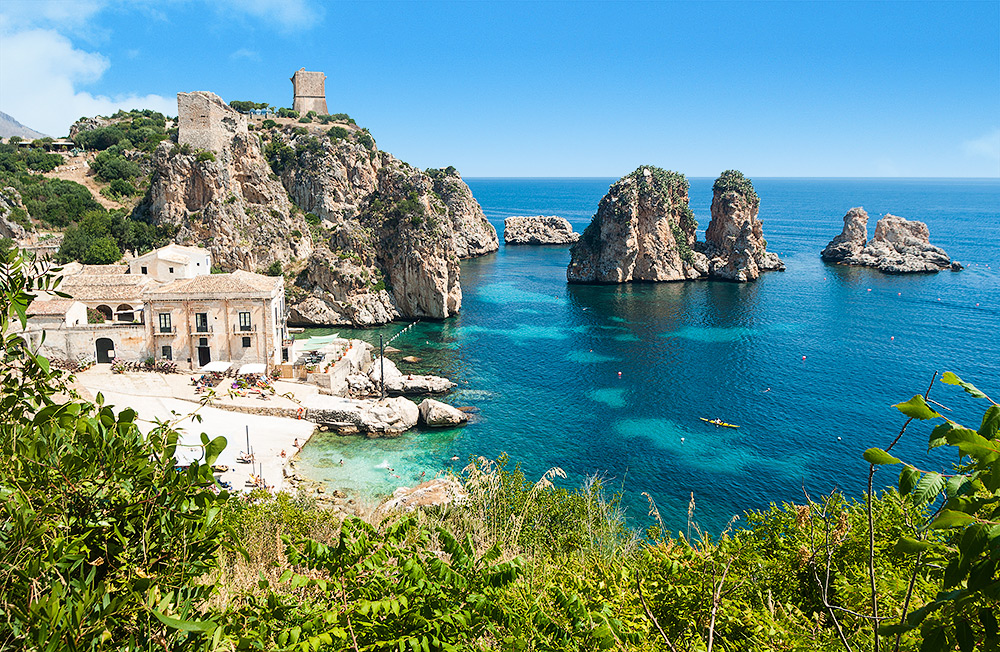 The Sicilian cuisine:
When we ask our guests what their ideal holiday looks like, the answer is often: sun, sea, beach and of course good food! If this sounds like your ideal holiday as well, then Sicily is the holiday location for you! The Sicilian cuisine is perhaps not as well known as the Tuscan cuisine, but that doesn't mean that you can't eat really well on the sunny island.
You can enjoy the most delicious dishes in many places in Sicily, like fantastic fresh ice-cream, dolci (collective name for cakes, pies, desserts and other sweets), street food, savory snacks and the Sicilian sfincione. When you are in Sicily, you should definitely try one of the following dishes and delicacies:
Pasta con le sarde:
This is a pasta dish with sardines and fennel, which in Palermo is made with tomato sauce, pine nuts and currants. In Catania, the sardines are often replaced by anchovies and they call it pasta cche masculini (masculini means anchovy in the Catanese dialect).
Caponata:
The caponata is a vegetarian starter (antipasto), made from fried vegetables (including eggplant and peppers) mixed with olives, capers and celery and has a sweet-and-sour taste. This dish used to be eaten as a side dish with the capone, but this fish was too expensive for many Sicilians, leaving the caponata as a separate dish.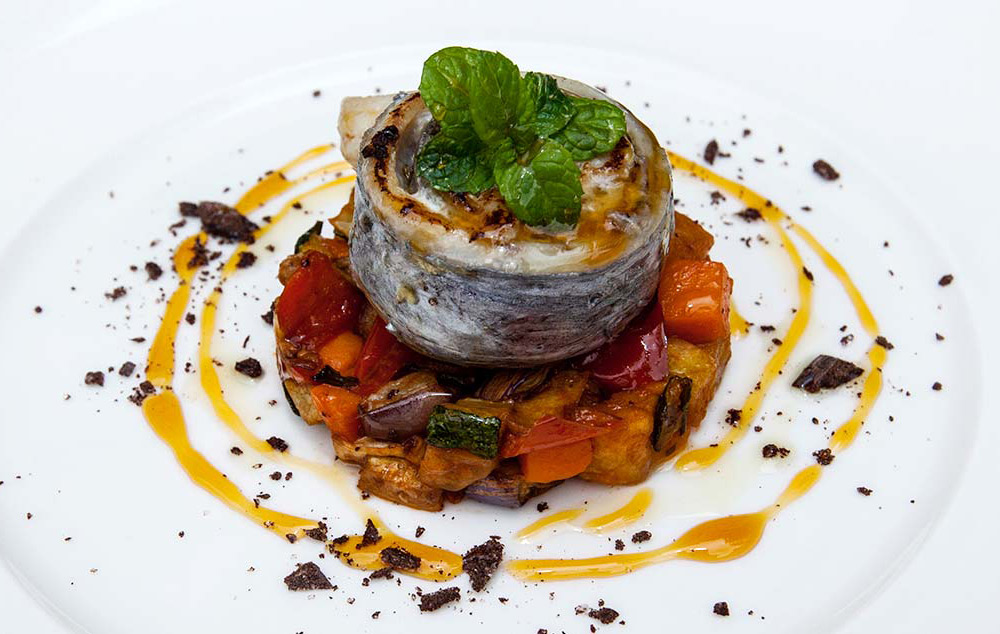 Sarde a beccafico:
A traditional dish from Palermo with breaded, baked and stuffed sardines. The filling consists of baked breadcrumbs, pine nuts, grapes, cinnamon, raisins and anchovies. 
The arancina:
The arancina, which literally means "little orange", is a famous Sicilian delicacy. You will find this large rice ball filled with cheese and ham or meat and peas in every Sicilian bar. In the east of Sicily they call it an arancino, but according to the Palermitans this is clearly not the correct spelling…
Pane e panelle:
This is also a tasty snack. Panelle are thin fried dough slices made from chickpea flour which are often served in a sandwich (you can also often order them as an antipasto).
Pane con la milza:
This typical Palermitan "street food" is a sandwich with liver or spleen and has a somewhat salty taste. You can find this special snack in many places, but the pani câ meusa (in Sicilian dialect) from Palermo are considered the tastiest (especially by Palermitans …) !
The cannolo:
This is probably the best known Sicilian sweet delicacy. The cannolo is a tube-shaped shell filled with sweetened ricotta cheese (made from goat's milk) and sometimes candied fruits and pieces of chocolate. The cannolo is a real calorie bomb!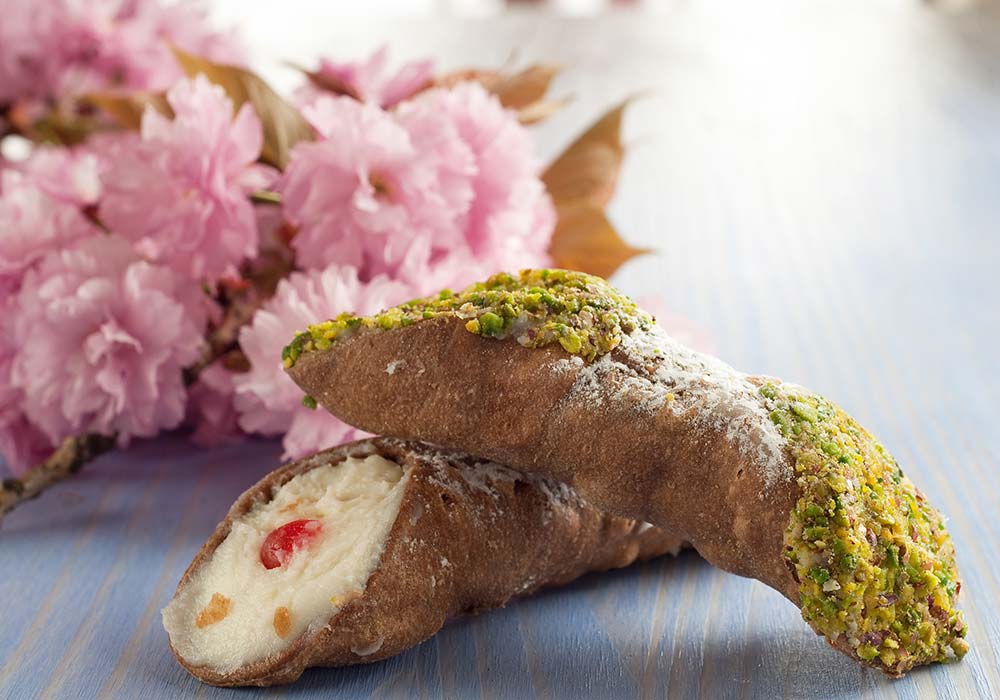 The cassata:
This glazed cake with cake layers prepared with, among other things, sweet ricotta, sugar and candied fruit is very sweet, but also super delicious!
Brioche con gelato:
The ice cream sandwich! An ice cream sandwich? Yep! It may sound a bit strange, but once you've tried this, you'll probably never want ice cream in a cone again … Due to it's size the bricoche con gelato also makes for a delicious lunch (do we really need an excuse to eat ice cream…? 🙂 ).
There are also many wineries in Sicily which produce excellent wines.

What makes Sicily so special?
In a setting where time seems to have stood still, in a beautiful landscape and with wonderful weather, it is especially the cordiality of the Sicilians that makes Sicily so special. Many years ago, when we were on holiday in Sicily ourselves, we experienced so many wonderful things that we could write a book a bout it! There was the cleaning lady at our hotel who lent us her brand new car, when our car broke down and the car mechanic who acted as our personal chauffeur for two days but only charged us for the car repair, but we met many more friendly people!
Our guests have had similar experiences. For example, there was this Dutch couple that wanted to go to Monreale, but when they stopped at a gas station in Altofonte to ask for directions, the guy working there wasn't able to explain to them how to get there due to the language barrier. After a few tries he grabbed his helmet, locked the gas station, jumped on his motorcycle and signaled our guests to follow him.  After a 10-minute drive he stopped, pointed at the sign saying Welcome to Monreale, raised his thumb, and then drove back to the gas station. We've heard many similar stories, so that's why we always say: "Ask an Italian for directions and he will show you where to go, ask a Sicilian for directions and he will take you there..".
We hope this blog post has given you a good idea of what to expect from a holiday in Sicily. On our website you will find personally selected accommodations, from small apartments to villas with a swimming pool. You can search by type or simply click on the direct links at the bottom of every page of our website. If you'd like some advice, feel free to contact us by telephone, chat or e-mail. We are happy to help you find the accommodation that best suits your needs!
We wish you a lovely holiday in sunny Sicily!